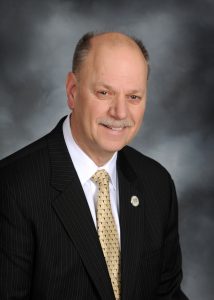 From the halls of Bedford High School to the Mayor's seat at Bedford City Hall, Stan Koci has always gone above and beyond the call of duty in actively supporting his hometown and working hard to make Bedford a better place to live, work or visit. After retiring from a 27-year career as a Bedford firefighter, Stan was elected to Bedford City Council. He was a councilman for 13 years, four of those serving as Vice-Mayor, before being elected to lead City Council as Mayor in 2013.
Stan attended Cleveland State University for a year before enlisting in the United States Air Force. He rose to the rank of Staff Sergeant and was honorably discharged four years later. He then attended Cuyahoga Community College. He began at the Fire Department and was promoted to Captain in 1987, returned to Cuyahoga Community College where he taught as an adjunct instructor. He subsequently taught fire tech classes at the college for four years.
A graduate of the National Fire Academy, Stan was named Firefighter of the Year twice. He rose to the rank of Captain/Assistant Chief during his career as a firefighter. He was a member of the Northeast Ohio Fire Prevention Association for 13 years, serving as Vice President for four. He worked on a fire coalition that influenced state law by writing a section of the Ohio Fire Code. He launched a levy in 1994 for a fire medic program that provided Bedford with paramedics.
Stan has served as Chair of the First Tier Suburbs Council and on a Steering Committee of Diversity and Opportunity Council, both under the National League of Cities. He also created the Art and Cultural Board in Bedford. "I am deeply committed to Bedford and have a great sense of pride to have been born, live and work here," the Mayor said. "I am proud to be a Bearcat and proud of the kids attending our schools now."