The City of Bedford has over 27 acres of park lands and facilities including Ellenwood Center and the outdoor municipal pool and skate park and is committed to providing our residents with safe and meaningful recreational opportunities.
City of Bedford Parks & Recreation Suspends All Programs
March 13, 2020
City officials have made the decision to suspend all Parks & Recreation Department programs and Ellenwood Center rentals beginning March 13 through April 6; including the Mother/Son Dance (3/13), Parks & Recreation Town Hall Meeting (3/21), and Easter Egg Hunt (4/4).  Participants registered for programs scheduled to take place during this time are eligible for a full credit or refund.
Elections taking place at Ellenwood Center on Tuesday, March 17, 2020 will go on as scheduled.
Senior Transportation Connection will continue to provide transportation services to our seniors.  Please know that STC vehicles; including but not limited to, seats, floors, and railings are cleaned daily and drivers are equipped with hand sanitizer.
City Officials will continue to monitor the situation and follow the recommendations of the Centers of Disease Control and Prevention (CDC), Ohio Department of Health, and Cuyahoga County Board of Health.
To slow transmission of the coronavirus and other infectious respiratory diseases (including the flu) we encourage community members; especially older adults and others who are more susceptible to illness, to practice social distancing as recommended by the CDC and continue to practice good hygiene habits such as:
Stay at home when you are sick
Avoid contact with people who are sick
Wash hands often with soap and water for 20 seconds or longer and then dry hands with a clean towel or air dry
Cover your mouth with a tissue or sleeve when coughing or sneezing
Avoid touching your eyes, nose, or mouth with unwashed hands or after touching surfaces
Clean and disinfect "High-Touch" surfaces often (counters, tabletops, doorknobs, bathroom fixtures, toilets, phones, keyboards, tablets, and bedside tables.
Call before visiting your doctor
Community members can visit the City of Bedford's website and Facebook page for current and future updates at www.bedfordoh.gov.
Parks & Recreation is working hard to enhance and preserve parks and recreation services, lands, and facilities through high standards and innovation that positions Bedford as a leading community and great place to live, work, and play.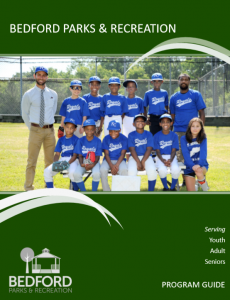 The Bedford Parks & Recreation Department published a brochure in December 2019 with many new programs and opportunities listed.  The Department looks forward to resuming routine operations and will look to either extend or reschedule programming that has been postponed due to the coronavirus/COVID-19 situation.  Please check back regularly for updates.
Our Department also has a new software program. Please go to BedfordOHRec.com and click on the Create New Account link to open your account and gain easier access to program registration. Be sure to then add all the members of your household into the account. Don't forget to enter your cell number with the carrier so we can text you with any last-minute changes. Your new household account will provide you with registrations history, financial history and much more. We look forward to enjoying this enhanced registration experience with you.