Senior Programs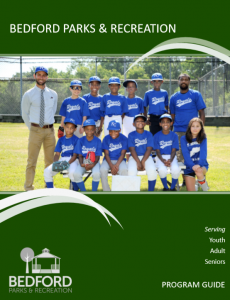 Residents will be mailed a brochure of upcoming program offerings from the Parks & Recreation Department.  Our staff is excited to bring you recreational and educational opportunities the whole family can enjoy.  Please take a look through our brochure and see all of the new wonderful programs and activities for children and adults of all ages.
The following senior programs are starting in February:
Seniors: Line Dancing, Reach with Rhythm, Friday Flicks, and Exercise & Fitness Walking Club
A digital version of the brochure will be available on the Parks & Recreation web page as will additional details on each program.  Check back for updates.
Senior Club
The Senior Club meets at Ellenwood Center on the second and fourth Wednesday of each month from 11:30 am to 3:00 pm.  Bedford residents age 55 and older are welcome to join.  Annual dues are just $15!   At the gatherings, members share a brief business meeting, enjoy lunch with beverages and desserts, and take pleasure in plenty of social time with friends. Following a delicious lunch folks can choose from a variety of activities including bingo, card games, or a movie. The Senior Club also plans a variety of field trips and special outings to museums, theaters, concerts, and other great events.  Food, friends, and fun! Come join us today!
AARP Tax Preparation Assistance
AARP provides free tax preparation services to seniors at the following locations/times.  Those interested should call the specific location for an appointment.
Bedford Heights Community Center
5615 Perkins Rd., Bedford Heights
440-786-3290
Tuesdays 9:00 AM – 2:00 PM
Warrensville Heights Civic Center
4567 Green Rd., Warrensville Heights
216-587-1250
Fridays 9:30 AM – 2:00 PM
Maple Heights Senior Center
15901 Libby Rd., Maple Heights
216-587-5481
Mondays 9:00 AM – 4:00 PM
Garfield Heights Civic Center
5407 TURNEY ROAD, GARFIELD HTS.
216-475-3244
Fridays 9:00 AM – 4:00 PM
Solon Senior Center
35000 Portz Parkway, Solon
440-349-6363
Mondays 9:00 AM – 1:00PM
For additional information click here for a link to the AARP website.
Senior Line Dancing
This lively group of seniors meets every Monday from 10:30 - 11:30am at Ellenwood Recreation Center to get a little exercise and to socialize. This activity is free to all resident seniors.
Reach With Rhythm Workout
Seniors that want to sit up, shape up and have fun while listening to great music will enjoy this gentle chair aerobics class that aims at stretching, strengthening, and toning your muscles. This class meets at the Ellenwood Recreation Center every Thursday morning from 11:00 am to 12:00 pm. The cost is only $1.00 per class so bring a friend and have some fun while getting in shape.
Community Transportation Service
The Parks and Recreation Department offers a door-to-door transportation service for Bedford Residents. Service is available for senior citizens 60 years of age and older and disabled persons over the age of 18 and can be used for medical appointments and errands such as banking, grocery shopping, etc. Service is not available to residents in nursing, assisted living or retirement facilities. A wheelchair accessible van is available. Boundary lines for all trips are: north - South Pointe Hospital; south - Northfield Plaza; east - City of Solon; west - Marymount Hospital.
Transportation service operates: Monday through Friday 8:00 am to 4:30 pm. A fee of $2 per roundtrip is required. For more information call 440-735-6570.  An application must be on file with the Parks & Recreation Department prior to service.
University Hospitals Walking Club
Put on your walking shoes and join the Age Well Be Well Walking Club every Monday. Take a few laps around the gym at Ellenwood Center. Please bring a pair of indoor walking shoes that are appropriate for the gym floor. New walkers will receive a complimentary T-shirt upon sign up. To register for this free program, call UH Bedford Medical Center (440) 735-4739.
Mondays, 9:30 AM - 10:00 AM
December 23, 30
January 6, 13, 27
February 3, 10, 24
March 2, 9, 16, 23, 30
Aging Mastery Program
The Benjamin Rose Institute on Aging with support from the Anthem Foundation will be running the Aging Mastery Program® from the National Council on Aging at Ellenwood Center on Tuesdays beginning January 14, 2020, 1:00-2:30  PM.   The 6-week Aging Mastery Program® (AMP) encourages mastery—developing behaviors to promote improved health, and overall well-being. By participating in this program, you will:
Make and maintain small but important changes in your health behaviors, financial well-being, and social engagement.
Get incentives and rewards for taking small steps that can improve your well-being.
Meet new friends, provide support and encouragement to your peers, and become more involved in your community
Click Here for More Information
To register, call the Parks & Recreation Department at 440-735-6570.  Space is limited.
Northeast Ohio Mind Challenge
Coming in January of 2020 is the Northeast Ohio Mind Challenge. There will be teams from senior centers and local municipalities competing in a trivia challenge representing four regions of Northeast Ohio.  Bedford will be competing in the Southwest Region with 8 other communities including Bedford Heights, Garfield Heights, Seven Hills, and Broadview Heights.
All participating cities will hold competitions to establish teams.  Our competition will be held on Thursday, January 23, 2020 at Ellenwood Center at 1:00 pm.  Snacks and beverages will be served.  There will be a maximum of six players per team with no limit to the number of Bedford teams we can enter.
Regional Competitions will be held in February and later months.  To advance to the next round, our team(s) must finish in the top 50% of competing teams in the region.  In addition, the top scoring team from each city will automatically advance; this keeps all the cities alive for a few rounds.  The Fact Finding Four and Mind Challenge Championship will take place in May.
Last year, Mentor received $2,500 prize money and each of the team members received prizes from the Hard Rock Rocksino.
If you are interested in registering for this program, please call (440) 735-6570.
Alzheimers Association Presentation
Join the Parks & Recreation Department for an education program presented by the Alzheimer's Association on February 20, 2020, 2:00-3:00 PM at Ellenwood Center.  Attendees will learn about
» The difference between normal aging and Alzheimer's.
» Common warning signs.
» The importance of early detection and benefits of diagnosis.
» Next steps and expectations for the diagnostic process.
» Alzheimer's Association resources.
The program is free, however pre-registration is required.  To register, click here or call 440-735-6570. Click here for more information.