Bedford Parks & Recreation is excited to announce special needs programming and inclusion support to our community. With grant funding from Cuyahoga County Board of Developmental Disabilities, we are able to offer free and affordable opportunities at Ellenwood Center and reduce the registration fees for adult Bedford residents who register for our hosted programs and with our cooperative partners.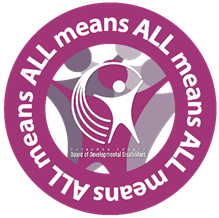 Everyone – regardless of ability – should have access to and be equal participants in all aspects of community life. Bedford Parks & Recreation is a proud participant of Cuyahoga County Board of DD's ALL means ALL community initiative.
Programs listed are activities designed for individuals with physical, sensory or developmental disabilities. People of all abilities are welcome to register.